FIRST-CLASS TECHNOLOGY FOR SOIL AND ASPHALT COMPACTION
HAMM offers a wide range of products for all aspects of soil and road compaction, utilising leading machine and compaction technology. Along with the technical requirements, ergonomic design and simple operation are prime concerns. And thus, HAMM finds a perfect balance of technology and ergonomic design.
In 1911, Hans Hamm set a milestone when he designed and built the world's first motor-driven road roller. At its headquarters in Tirschenreuth, HAMM continues to set new standards, even today, as regards the design and ergonomics of its compactors, tandem and rubber-tyred rollers as well as compaction with oscillation.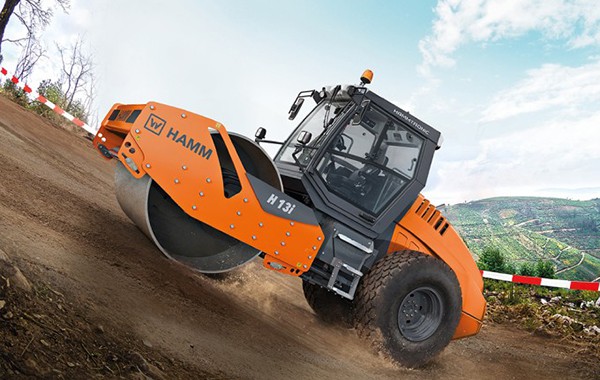 Single-drum compactors
| | | | |
| --- | --- | --- | --- |
| Model | Operating weight, kg | Drum width, mm | Power rat. ISO 14396, kW/PS/rpm |
| 3410 | 10535 | 2140 | 100,0/136,0/2300 |
| 3411 | 11310 | 2140 | 100,0/136,0/2300 |
| 3412 | 12200 | 2140 | 100,0/136,0/2300 |
| 3414 | 14240 | 2140 | 100,0/136,0/2300 |
| 3516 | 15755 | 2140 | 155,0/210,8/2300 |
| 3518 | 17825 | 2200 | 155,0/210,8/2300 |
| 3520 | 19800 | 2200 | 155,0/210,8/2300 |
| 3625 HT | 24785 | 2200 | 155,0/210,8/2300 |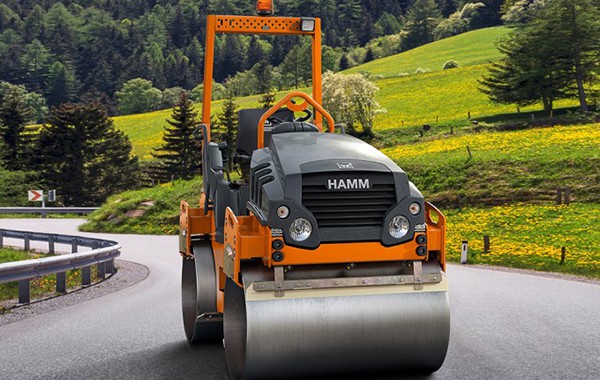 Tandem rollers
| | | | |
| --- | --- | --- | --- |
| Model | Operating weight, kg | Drum width, mm | Power rat. ISO 14396, kW/PS/rpm |
| HD 8 VV | 1580 | 800 | 14,8/20,1/2700 |
| HD 10 VV | 2475 | 1000 | 22,9/31,1/2700 |
| HD 12 VV | 2695 | 1200 | 22,9/31,1/2700 |
| HD 13 VV | 3965 | 1300 | 34,6/47,1/2700 |
| HD 14 VV | 4345 | 1380 | 34,6/47,1/2700 |
| HD 70 VV | 7260 | 1500 | 55,4/75,3/2500 |
| HD 75 VV | 7670 | 1680 | 55,4/75,3/2500 |
| HD 90 VV | 9190 | 1680 | 100,0/136,0/2300 |
| HD 110 VV | 10530 | 1680 | 100,0/136,0/2300 |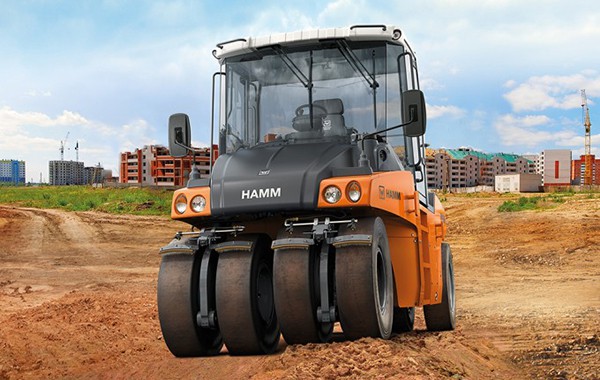 Pneumatic tyre rollers
| | | | |
| --- | --- | --- | --- |
| Model | Operating weight, kg | Width by wheels | Power rat. ISO 14396, kW/PS/rpm |
| HD 14 TT | 3470 | 1127/1276 | 34,6/47,1/2700 |
| GRW 280-10 | 8785 | 1830/1830 | 100,0/136,0/2300 |
| GRW 280-12 | 11055 | 1830/1830 | 100,0/136,0/2300 |
| GRW 280-16 | 15000 | 1830/1830 | 100,0/136,0/2300 |
| GRW 280-20 | 19225 | 1830/1830 | 100,0/136,0/2300 |
| GRW 280-24 | 23275 | 1830/1830 | 100,0/136,0/2300 |
| GRW 280-28 | 26830 | 1830/1830 | 100,0/136,0/2300 |
| GRW 10 | 9535 | 1744/1744 | 85,0/115,6/2300 |
| GRW 15 | 12045 | 1744/1744 | 85,0/115,60/2300 |
| GRW 18 | 15045 | 1744/1744 | 85,0/115,60/2300 |
| GRW 21 | 21675 | 1744/1744 | 85,0/115,60/2300 |
| GRW 24 | 24675 | 1744/1744 | 85,0/115,60/2300 |